2012/2013 Academic Year
Great News! Congratulations to NDSU and Architecture Program Alumnus, Dan Noble, FAIA, FACHA, LEED AP.
Mr. Noble was named President and CEO of the internationally renowned architecture office HKS. Read the full press release and video here. HKS at a glance:Founded: 1939; Worldwide offices: 27; Projects located: In 1,498 cities throughout 84 countries; People: More than 975 dedicated and experienced professionals.
Mike Christenson, Associate Professor of Architecture, has received the Gunlogson Award with $5,000 funding for research.
This grant funds his research project titled "Urban Renewal in Fargo: A Study of Architectural and Urban Epistemology." Through a focus on the images, text, and models used to guide Fargo's federally-funded Urban Renewal program from 1955 through 1974, the project will study the means by which knowledge about buildings and cities is produced, disseminated, manipulated, consumed, and archived. Christenson will be assisted in his research by Alex Carlson, a graduate student in Architecture.
NDSU Architecture students travel to Haiti to study aid relief and sustainable building design.
Students from Associate Professor David Crutchfield's Buildings and Benevolence course travelled to Haiti early this Spring to participate in a week-long NGO workshop. This introduces students to an international aid project related to providing shelter via socio-economic and environmental challenges inherent to such efforts. Upon their return, the group will develop a collaborative architectural proposal based upon their experiences and fundamentals of sustainable design. Students from each level of the Architecture program are represented, from 2nd to 5th year. Pictured here, L-R: Karissa Meiers, Matthew Fremstad, Kara Iliff, Sophie Miller, and Noah Harvey (not shown). It was 95 degrees in Haiti - and a 'balmy' -20 in Fargo.
NDSU and Architecture program alumnus Daniel Abeln is rapidly forming a successful career as he helps build the region's business infrastructure.
Mr. Abeln, BS '06 environmental design, MArch '07, architecture, is the Project Manager, Architecture for EAPC Architects Engineers in Grand Forks, N.D., and was recently named to Prairie Business magazine's exclusive "40 Under 40" list.Read NDSU press release here. or Read original story here.
NDSU Architecture Program graduate, Jodi Zoerb, wins an honorable mention in the AIA St. Paul Prize design competition.
GREAT NEWS:
DesignIntelligence names 30 Most Admired Educators for 2014
NDSU Department of Architecture and Landscape Architecture Associate Professor Stephen Wischer was named by DesignIntelligence as one of the 30 Most Admired Educators for 2014. Read about him here. See page 15.
NDSU Landscape Architetcture Studio: LANDSCAPE INTERVENTIONS FOR THE BAKKEN
Landscape Interventions for the Bakken is a landscape architecture exhibit that addresses environmental planning and design interventions for systems prone to disturbance by rapid oil and natural gas development. Main street level drawings and guidelines propose new frameworks linking robust economies to the ecology and culture of these places. The exhibition will be on display at the Stationhouse Gallery in the Red Raven Espresso Parlor, 916 Main Avenue, Fargo, ND from November 25th through December 2nd. Parking via alley access in back of building. A reception and chance to converse with the student designers will be held on Monday November 25th from 4pm to 6pm. CONTACT: Prof. Dominic Fischer dominic.fischer@ndsu.edu
Congratulations to NDSU Architecture students Casey Cotcamp and Stephen LaGrange
Casey Cotcamp and collaborator Stephen LaGrange's proposal for the international competition reGEN BOSTON was awarded a Special Mention. Their boards will be on display at the Boston Society of Architects from mid-December through January 2014. The competition was open to all architects, landscape architects, designers, engineers, artists and students and celebrated the 25th anniversary of the Boston Society of Architects Boston Visions National Design competition originally held in 1988.
The Department of Architecture and Landscape Architecture's Rapid Prototyping in the News Again!
Students from NDSU's Department of Architecture and Landscape Architecture demonstrated 3D printing at the NDSU IT expo. Read about it here: The Spectrum See the entire presentation here Click here
The Department of Architecture and Landscape Architecture's Rapid Prototyping in the News
Mr. Ben Bernard, a technology specialist for NDSU's Department of Architecture and Landscape Architecture was in The Forum of Fargo-Moorhead newspaper. Mr. Bernard was quoted, "As a land-grant school, it's our job to be on the bleeding edge of technology and share that technology with the rest of the state." Read the full article.
Architecture and Landscape Architecture Lecture Series
WED. OCT. 2ND 4:30PM
DANIEL TAL: Trimble Sketchup, Denver
Location: NDSU Renaissance Hall, 650 NP Avenue, Fargo, ND, 5th Floor
Mr.Tal, RLA, ASLA, is a licensed practicing landscape architect in Denver, Colorado, and a Google SketchUp specialist who conducts workshops and seminars on SketchUp for landscape architects and architects. Mr. Tal's most recent book is titled Rendering in SketchUp: From Modeling to Presentation for Architecture, Landscape Architecture and Interior Design. Please visit Mr. Tal's YouTube Channel
The lecture is free and open to the public.
Architecture and Landscape Architecture Lecture Series
WED. SEPT. 27TH 4:30PM
DANIELLE CHOI: Michael Van Valkenburg Associates, New York
Location: NDSU Renaissance Hall, 650 NP Avenue, Fargo, ND, 5th Floor
Architecture and Landscape Architecture Lecture Series
WED. SEPT. 18TH 4:00PM
ANGELA DANADJIEVA: Danadjieva & Koenig Associates, San Francisco
Location: NDSU Renaissance Hall, 650 NP Avenue, Fargo, ND, 5th Floor
Architecture and Landscape Architecture Lecture Series
FRI. AUG. 30TH 12:00PM
ANDY SCHOLZ: Regensburg University, Germany
Location: NDSU Renaissance Hall, 650 NP Avenue, Fargo, ND, 5th Floor
New Chair Named for Architecture and Landscape Architecture
Kent Sandstrom, Dean of the NDSU College of Arts, Humanities and Social Sciences, announced that David Bertolini has been selected as the next chair of the Department of Architecture and Landscape Architecture. Bertolini, who is a professor and graduate coordinator in the School of Architecture at Louisiana State University, is expected to join NDSU in late July.

"Dr. Bertolini will help to build the academic distinction of the Department of Architecture and Landscape Architecture. He is also a dedicated leader who can successfully guide the department as it addresses the transitions and challenges it will face in the future," Sandstrom said. "We are delighted to welcome him to the college and to NDSU."

Read More
The firm JLG Architects is named in
The Zweig Letter's 14th annual Hot Firm List
NDSU Department of Architecture and Landscape Architecture graduates include:

Lonnie Laffen - Partner at the JLG Grand Forks office,
also an ND state legislator; founding member of the A/LA Advisory Board
Michelle Allen - CEO of JLG, partner-in-charge of their Minneapolis office,
also an A/LA Advisory Board Member.
Jim Galloway - Partner-in-charge at the JLG Grand Forks office.
Dan Miller - Partner-in-charge of the Alexandria, MN office.
Todd Medd - in the Fargo office.
Joel Davy - Fargo office, former A/LA Advisory Board member.
Click here for press release
NDSU Landscape Architecture Abroad
by Assistant Professor of Landscape Architecture Kathleen Pepple
Without unnecessarily denigrating the general quality and value of landscape architecture programs and curricula in the United States, sometimes our teaching can be somewhat myopic. By extension, our students learn to inhabit a worldview that remains quite provincial as international and global influences advance exponentially.Read More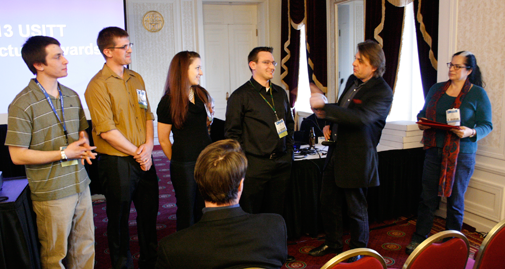 North Dakota Students Win Ideal Theatre Contest
What started as an architecture class project - to design a theatre for their campus - ended with five students from North Dakota State University winning USITT's 2013 Ideal Theatre Student Design Competition.Read More
Spring Break: Dubai
Experience a glimpse of what some of our students encountered in Dubai, United Arab Emirates
Term Abroad: Antwerp
Follow the ongoing adventures of our students under the supervision of Dr. Paul Gleye in Antwerp, Belgium
Dedicated faculty members immerse students in a supportive, one-on-one instructional environment, encouraging learners to keep their minds open and follow their individual approaches to design.
We foster a collaborative learning environment, where students, faculty and staff help each other discover and create knowledge, cultivate skills, and apply techniques to solve problems related to the design of built environments and the landscapes that surround them.
Design thinking is a special form of thinking where diverse theories, concepts and ideas are synthesized in the creative solving of design problems. Design thinking helps us move from the current worlds we inhabit to imagined ones.
ALA Spring Lecture Series
Wednesday February 27th: Lori Ryker
Friday April 5th: Candy Chang
Monday April 8th: Moorhead and Moorhead
10/4/2012
If you missed Malcom Holzman's fantastic lecture which showcased his design process and use of salvaged, local materials.
9/27/2012
ALA Advisory Board Member Kristi Hanson, AIA, hosts student leaders Ginnie Hausladen, Jena Stanton, Sarah Lockwood, and Kimberly Farmer at a dinner/reception for Thought Leader Series speaker, Scott Shickler, at the NDSU Alumni Center.
9/26/2012
Faculty members Mark Barnhouse, AIA, and Cindy Urness, AIA, were joined by AIAS officers and members, Kimberly Farmer, Courtney Pickett, Sara Kolpack, and Ploiphan Saengporm at the AIA North Dakota Annual Conference in Bismarck. AIAS members Leah Fagerland, Rebecca Johnson, Courtney Pickett, and Anthony Wocken were awarded $1,000 AIA North Dakota Scholarships at the Annual Awards Banquet. (Award winners are joined in the photo by Kim Farmer, AIAS Chapter President, and Richard Bohrer, AIA, 2012-2013 President of AIA North Dakota)
9/21/2012
If you had the misfortune of missing Dr. Pottgiesser's comprehensive lecture on the challenges of designing energy efficient buildings with modern facade design techniques.
9/14/2012
"It's Happening at State" of Sept 14th 2012 features Architecture, landscape architecture programs maintain accreditation.
6/27/2012
Fifth year student Brad Benke designs chair for Stahl Architects.
6/15/2012
"It's Happening at State" of June 15th 2012 features Building Dashboard research project.
10/10/2012
7:00 - 8:30pm
Renaissance Hall Room 114
Freedom by Design "Design Charrette" for a new playground for Lewis and Clark Elementary School in Fargo. Don't forget your trace paper, ruler, and writing utensil!
10/4/2012
12:00pm
5th Floor Renaissance Hall
Speaker Malcom Holzman, FAIA visiting from New York City "Observation, Drawing, and Architecture".
10/3/2012
2:00pm
Shott Reading Room
Presentation by NDSU architecture alumnus, Ankit Rauniyar, on his award winning vision of a new library building with an introduction by President Bresciani.
9/27/2012
5:30pm
Barry Hall Room 114
Speaker Mike Rodriguez, AIA, EDAC, LEED AP - HDR Architecture, Inc "Marketing Healthcare / Establishing a Sustainable Practice".
9/22/2012
9:30am
Wallman Wellness Center parking lot.
AIAS Freedom by Design 5K Fun Run around NDSU Campus involving accessibility awareness activities, including an accessibility tour around several NDSU buildings to follow the race.
9/21/2012
4:15pm
5th Floor Renaissance Hall
"Speaker Dr. Uta Pottgiesser ""Facade Design and Construction: Learning from the Past - Looking to the Future"" at 4:15pm on 5th floor Renaissance Hall."
9/17/2012
4:15pm
5th Floor Renaissance Hall
speaker Paula Sassi "Designing a future: architecture and sustainable societies." at 4:15pm on 5th floor Renaissance Hall.
9/13/2012
7:30pm
5th Floor Renaissance Hall
AIAS first members meeting in Renaissance Room 114 at 7:30p and there will be root-beer floats waiting for you!