Laurie J. Loveland Speaker Series
Christine Gregoire (Spring 2007)
"No, no. Women should not be generals," a male voter once told candidate Gregoire. Known for her articulate and assertive style, the three-term Attorney General negotiated a $206-billion settlement with the tobacco industry that prohibited marketing to youth. In 2004, Gregoire made American history when she narrowly won the Governor's Office by a breathtaking 133 votes. Roughly 2.8 million Washington voters cast ballots in the race. Gregoire is Washington's second woman governor and the first to win re-election. https://www.sos.wa.gov/legacy/biographies/christinegregoire.aspx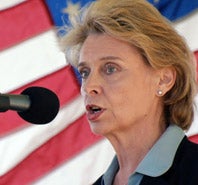 Bonnie Palecek (Spring 2008)
She was nominated by state legislators, victim advocates and the state Attorney General. Bonnie led the efforts in ND to establish programs for victims of intimate partner violence as well as establish the laws of the state criminalizing domestic violence and sexual assault. Indeed, every law regarding violence against women has Bonnie's mark on it as the primary advocate in the state.

Barbara Ehrenreich (Fall 2010)
Journalist, historian, and social critic Barbara Ehrenreich is the author of fifteen books. In 2001, Ehrenreich's Nickel and Dimed: On (Not) Getting by in America (Metropolitan Books) became a New York Times bestseller, and has since sold over one million copies. Nickel and Dimed, a trenchant examination of working-class poverty that chronicles Ehrenreich's own attempt to live on minimum wage, is now required reading at more than 600 colleges and universities, from University of Ozarks to Yale University to Western Wyoming Community College. In 2005, Ehrenreich's Bait and Switch, also a New York Times bestseller, exposed the ever more prevalent phenomenon of white-collar unemployment. In 2008, Metropolitan books published This land Is Their Land, a collection of her published columns. Ehrenreich's most recent book, Bright-sided: How the Relentless Promotion of Positive Thinking has Undermined America, was published by Metropolitan Books in October, 2009. A frequent contributor to Harper's and The Nation, Ehrenreich has been a columnist at the New York Times and Time magazine. In 2004 she received the Nation Institute/Puffin Foundation Prize for Creative Citizenship, given annually to an American who challenges the status quo "through distinctive, courageous, imaginative, socially responsible work of significance." Ehrenreich lives near Washington, DC.
Jessica Valenti (Fall 2015)
Jessica Valenti - called one of the Top 100 Inspiring Women in the world - is a columnist for the Guardian US and a feminist author. Her most recent book, Sex Object: A Memoir, was a New York Times bestseller. In 2004, Jessica founded the award winning blog Feministing.com, which Columbia Journalism Review called "head and shoulders above almost any writing on women's issues in mainstream media." Jessica's articles have topped the most-read lists at The Atlantic, the Guardian US, The Washington Post, and The Nation. She has also written for The New York Times, Salon, Bitch, Ms. Magazine and The Toast. Jessica has been interviewed on The Colbert Report, profiled in The New York Times magazine, and is a widely-sought after speaker. She has a Masters degree in Gender Studies from Rutgers University and lives in Brooklyn with her husband and daughter. https://www.jessicavalenti.com/

Janet Mock (Fall 2017)
Janet Mock is the New York Times bestselling author of two memoirs, Redefining Realness (2014) and Surpassing Certainty (2017), the host of the conversation series, Never Before, a writer and producer on Ryan Murphy's upcoming FX series Pose, and a feminist tackling stigma through storytelling. Janet broke ground in 2014 with the release of her first book Redefining Realness, a pioneering and profound memoir which was the first biography written from the perspective of a young trans person. It debuted on the New York Timesbestsellers list in 2014 and Janet was interviewed by Oprah Winfrey for Super Soul Sunday. Her second book, Surpassing Certainty, a memoir about the years in her life when she was not public about being trans, was praised by Kirkus as a "defining chronicle of strength and spirit…brimming with liberated self-discovery." On January 21, 2017, the sought-after speaker and advocate (who founded #GirlsLikeUs and #TransBookDrive) addressed millions on stage at the Women's March on Washington, where she urged for an intersectional and inclusive movement that included all women: trans women, undocumented people, sex workers and disabled folk. "I stand here today, most of all, because I am my sister's keeper…Our approach to freedom need not be identical, but it must be intersectional and inclusive."
Janet began her media career at People.com (People magazine's website), where she worked for five years climbing the ranks at Time Inc. from Staff Writer to Staff Editor upon her departure in 2012. She has since produced the HBO documentary The Trans List, where she conducted all interviews and worked with Timothy Greenfield-Sanders. She also created the column "Beauty Beyond Binaries" for Allure.com, which broke ground by exploring pretty privilege, and the interview podcast Never Before with Pineapple Street Media, which featured in-depth conversations with Tina Knowles-Lawson, Rep. Maxine Waters, Kris Jenner and Lena Dunham. She also served as a correspondent for Entertainment Tonight (interviewing Queen Latifah, Jeffrey Tambor), a contributing editor for Marie Claire (for which she wrote the November 2016 cover story on Nicki Minaj), and an on-air contributor and host for MSNBC, where she helmed the groundbreaking series, "So POPular!" interviewing Salma Hayek, Issa Rae, and Amber Rose.
Born in Hawaii, Janet's story of growing up trans caught the nation's attention in a 2011 Marie Claire article. Since then she's become a millennial media powerhouse. Variety named her one of its 2017 "Power of Women," TIME called her one of "the most influential people on the Internet" and one of "12 new faces of black leadership" while Fast Company named her one of 2015's "most creative people in business."
Janet has been interviewed on Wendy Williams, Late Night with Seth Meyers, Desus & Mero, and Real Time with Bill Maher. Her writing has appeared in the New York Times, The New Yorker, Marie Claire, and The Advocate. She wrote the foreword for famed photographer Mark Seliger's collection, On Christopher Street: Transgender Stories, contributed to the anthology, The Feminist Utopia Project, and has appeared on the covers of Paper, OUT and C☆NDY magazines. The Ms. Foundation, Planned Parenthood, Feminist Press, GLSEN, Shorty Awards and the Sylvia Rivera Law Project have all honored Janet for her work.
A native of Honolulu, Janet attended the University of Hawaii at Manoa, earned her MA in journalism from New York University, and serves on the board of the Arcus Foundation
. She lives with her husband Aaron and their dog Cleo. janetmock.com